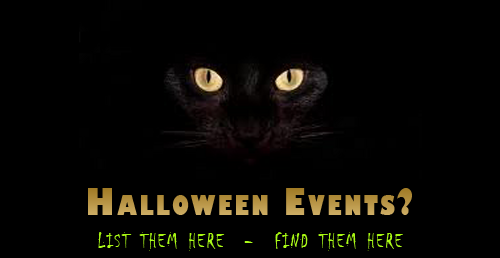 2013 Halloween Events for Spokane, Spokane Valley, Liberty Lake and more. Find Halloween fun here! Got an event you need listed?
Submit it to us at kbrown@SpokaneNightOut.com. Please include all details in a copy and paste format. You are welcome to include a photo/poster as a jpg., .png or .gif. Be sure to include dates, times, address and contact info.

---
3405 N. Beck Road
509-242-2676
Featuring The Field Of Screams!

This separate 3.5 acre maze opens at night on week 3 to scare all who dare to enter. Prices increase to $10 for Adults, $7 for kids and seniors and includes admission to all three regular non haunted mazes and the Field of Screams Haunted Maze.
PRICING
Incredible Corn Maze Admission Price
(3 separate mazes on 12 acres, over 5 miles of paths)
Adults and Teens: $9
Children (ages 5-12): $6
Seniors (60+): $6
Military (with ID): $6
Children 4 and younger: FREE
Field Of Screams Haunted Maze October 4th- October 31st 5 pm to close
(Includes admission to the Incredible Corn Maze)
Adults: $10
Children (ages 5-12): $7
Seniors (60+): $7
Military (with ID): $7
Children 4 and younger: not recommended but FREE
---
1316 N. Lincoln Street
509-327-8000
4th Annual Bite Night
116 S Best
509-891-8995
---
232 W. Sprague Ave

Spokane

509-474-1621
Spokane Beard & Mustache Presents: A Hairy Halloween
October 18th | 8 pm
Come on down for some hairy Halloween fun! Throw on your costume (beard not required) and help raise some money for the Spokane Guilds' School while listening to some great music!
Performances by Cross My Heart, December in Red, and The Nixon Rodeo!! So grab your friend, heck grab a stranger, and let's get weird!
---
Chateau Rive at the Flour Mill
621 W. Mallon Ave.
(509) 795-2030
Join us at Chateau Rive At The Flour Mill for a Halloween Party with Smash Hit Carnival!!! From The Monkees to Lady Gaga, Pink Floyd to Carrie Underwood, 10cc to your favorite artists from the 80's, we've got it all and then some! And of course, costumes! "Welcome back my friends to the show that never ends!" Wear your best Halloween costume and come dressed to impress!
Time to conjure the Spirits and wake up the dead (well Spokane at least) with Spokane's favorite show band Smash Hit Carnival!!

Friday, October 25th from 8 pm to 10 pm

Costumes encouraged and spooky drinks are available.

Come out to the beautiful Chateau Rive at the Flower Mill and share the fun!

Tickets available at http://ticketswest.com/events/smash-hit-carnival/14206/
---
Fire & Ice - Naughty Or Nice Halloween Party At Club 412
412 West Sprague Avenue
Spokane
October 26th 9 pm - 4 am

Are you naughty or nice this Halloween?
Come dance until 4 am with two rooms, two DJ's and your chance at a $200 first prize, $100 2nd prize or $50 3rd prize Costume Contest!
Fireball drink specials all night!
---
The Fail Safe Project Halloween Bash at Red Room Lounge
521 West Sprague
Spokane
Special guests Seven Cycles | Coming Alive | Mom's Rocket
October 31st | 9 pm

More details to come
---
HUB Sports Center Corn Maze
Welcome to the HUB Sports Center's Corn Maze. We are excited to bring this family fun adventure to the community.
Three different trails across 10 acres has challenges for the young and old getting lost and finding yourself!!!
It's a sports themed maze. See if you can find the soccer ball, basketball, volleyball, baseball and football.
Great deals from local businesses are "hidden" within the maze. Come see if you can find all 18 as you trek through the 3 mazes. (Click Here for a list of participating businesses.)
Main Maze:
Dates: October 4-6, 11-13, 18-20, 25-27
Hours: October - Fridays: 5-11pm, Saturdays: 10am-11pm, Sundays: 12-5pm
Haunted Trail of Fear:
Dates: October 5, 11-12, 18-19, 24-27, 31
Hours: Fridays: 6-11pm, Saturdays: 6-11pm (October 24, 27, 31 until 10pm)
---
Big City Rock & Country Saloon

321 West Sprague Avenue
Spokane, WA 99201
509-953-3354
---
1001 W Sprague
509-624-1200
Tales of ghostly haunts, gin-running and cold-blooded murder are just a few of the dark secrets uncovered in Spooky Spokane. This 90-minute walking tour around downtown will begin at Martin Woldson Theater at The Fox, a historic treasure that is home to an apparition or two. The guided journey continues over a 12 block radius where guests will be delighted with stories and legends from Spokane's colorful history.
There are a limited number of spots on the Spooky Spokane tours, so book your spot quickly and prepare to be deliciously scared.
Proceeds to benefit Martin Woldson Theater at The Fox.
Ticket Information:
Spooky Spokane tours run on Thursday and Friday evenings at 7pm for three consecutive weeks on Oct. 10, 11, 17, 18, 24, and 25, 2013.

Ticket prices for Spooky Spokane are $15. Tickets may be purchased with personalized service at the Box Office at Martin Woldson Theater at The Fox, 1001 West Sprague Avenue, or by calling 509-624-1200. Tickets are also available at all TicketsWest outlets. Additional charges may apply.
---
10903 E Sprague
509-744-3411
401 W Riverside Suite 101
509-321-7480
Gift Cards for 2nd and 3rd place
---
120 N Wall St
The Vault Social Club presents our 3rd annual BOO BASH!
October 25th and 26th will be the Halloween weekend costume party you don't want to miss!
Oct 25th Eddie Proulx will be keeping the bass howling upstairs while T.E.E. will be keeping the underground VAULT Therapy undead.
Oct 26th Dj Mayhem will be in the house from 96.9 keeping the party going all night for all you creepy creatures with footmusik downstairs blasting the ghoulish beats you can handle.
Tons of drink specials all weekend:
Tickets to this event are available at The Vault Social Club and are disappearing fast and very limited so don't miss out!
Single night tickets are $10 or if you want to be apart of both nights to have twice the chance of winning prizes and being part of all the shenanigans it will be only $15 for the weekend.
---
---
Comments