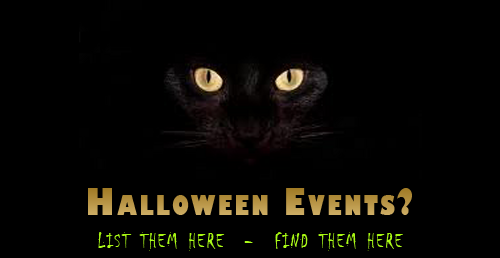 2012 Halloween Events for Spokane, Spokane Valley, Liberty Lake and more. Find Halloween fun here! Got an event you need listed? Submit it to us at kbrown@SpokaneNightOut.com.
Please include all details in a copy and paste format. You are welcome to include a photo/poster as well.

---
DESCEND into Electronic Halloween insanity on both stories of the A Club! Be engulfed by all 3 rooms/2 levels and 14 DJs spinning electronic all night. $5 presales are available $10 at the door, and LADIES GET IN FREE Till 11pm! but be sure to show up early to register to win the best male/ female costume contest. We are also having a balloon drop at midnight with over $1,000 in prizes! So be sure you don't miss this event. 21 & up
Brought to you by Perfechter Productions and SpokaneNightOut.com
Sponsored by Piece of Mind, Absolute Harmony massage, Qdoba Mexican Grill, Lalo's Pizza, and receiving support by Sleeping Forest and Bassline GoGos


Hades/ Main Room
9:00- Xodus
http://www.facebook.com/
XodusX
10:00- Stitch Jones
http://www.facebook.com/
terry.fisher.902
11:00- Daethstar
http://www.facebook.com/
keltonallen
12:00- MC Squared
http://www.facebook.com/
jade.cardwell.3
1:00- Crave
http://www.djcrave.com/
Purgatory/ 2nd Room
9:00- Jilted Kilter
http://www.facebook.com/
JiltedKilter
10:00- DJ Funk
http://www.facebook.com/
el.djfunk
11:00- ZeCe
http://www.facebook.com/
zcarothers
12:00- AEther
http://www.facebook.com/
shorttermshawty?fref=ts
1:00- Felon
http://www.facebook.com/
diskjockey.felon?fref=ts
3rd room/ The River Styx
10:30- Sexxx Midget
http://www.facebook.com/
djboomboombass?fref=ts
12:00- Pandorum
http://www.facebook.com/
donny.komac
1:00- DJ Kaas
http://www.facebook.com/
DJKaas
---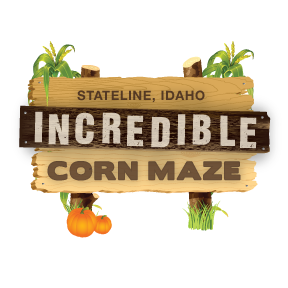 3405 N. Beck Road
Hauser
,
ID
83854
509-242-2676

Visit our website
View our Facebook page
Bring your entire family for a full day of fall family fun!
Cash Only
ATM Available Onsite!
At the Maze this year we have a ton of Fall Family Fun!
1.25 Acre Pumpkin Patch - pick your own pumpkin and mini gourds
we also have bundles of corn stalks for sale
Food Concessions
Corn Cannon Shooting Range
Tractor Tire Playground - Bigger & Better this year
Thanks Les Schwab Tire Centers
Helicopter Rides - Every Saturday and Sundays from Sept 29 - Oct 28th.
ONLY $20 per person
Maze Game - Find all 15 checkpoints in the maze to enter to win weekly prizes
AND
Field of Screams Haunted Maze which Opens Oct 6!

This separate 3.5 acre maze opens at night on week 3 to scare all who dare to enter. Prices increase to $10 for Adults, $7 for kids and seniors and includes admission to all three regular non haunted mazes and the Field of Screams Haunted Maze.
The 2012 Incredible Corn Maze Dates & Times
September 21st October 31st
Open Friday, Saturday and Sundays (September 21st October 28th)
Friday Hours 4pm 11pm
Saturday Hours 10 am 11pm
Sunday Hours Noon 5pm
Final Week the Maze will also be open
Wednesday October 24th 6pm 10pm
Thursday October 25th 6pm 10pm
Wednesday October 31st 6pm 10pm
Field of Screams Separate Haunted Maze
Saturday October 6th 6pm 11pm
Friday October 12th 6pm 11pm
Saturday October 13th 6pm 11pm
Friday October 19th 6pm 11pm
Saturday October 20th 6pm 11pm
Wednesday October 24th 6pm 10pm
Thursday October 25th 6pm 10pm
Friday October 26th 6pm 11pm
Saturday October 27th 6pm 11pm
Sunday October 28th 6pm 10pm
Wednesday October 31st 6pm 10pm
We will open the maze during off times for groups of
30 or more by appointment only. Call 509-990-6088 to make your reservation.
Special Group Rates also available
---
HALLOWEEN COSTUME PARTY 2012
OF COURSE IT'S AT BOLO'S !
SATURDAY OCTOBER 27TH
DANCE AWAY THE EVENING WITH
" THE CRUIZERS"
CASH PRIZES TO BE AWARDED AT
THE STROKE OF MIDNIGHT
BEST COUPLE WINS $150
BEST INDIVIDUAL WINS $150
SECOND PLACE WINS $75
---
Halloween Party at The Tailgater!
Halloween Hunt October 27

Come in and find cash, swag, hockey tickets, comedy club tickets
and tons more hidden throughout the bar!
Cash prize for best costume at midnight! Dancing with DJ 187!
Beer and Drink specials! Jello Shots! Pub Pong and more!
---
Haunted Zombie Hike
Get ready to hike the scariest 1/2 mile of your life!
Zombies are lurking in the forest of Riverside State Park, and they have risen to shamble the trails for the first ever Haunted Zombie Hike!
Fridays & Saturdays, 6pm – 10pm starting October 12- 27 and also Oct. 31.

The event will start near the Equestrian Arena located just off of West Government Way.

Admission is $5.00. For more information please check us out on Facebook at Discover Riverside State Park.

I am in need of volunteers in the following areas: zombies, prop operators, set up for props and course layout, course ushers, parking assistance and
any additional help as needed.

The event will run Fridays and Saturdays from October 12 thru 27 and Halloween night. The hike will open at 6 pm and close at 10 pm. Admission for non-volunteers is $5 per person and NO Discover pass is required. Volunteers will need to plan on showing up 1 hour prior to opening and can expect to leave 1 hour after closing.

Zombies will be responsible for their own costume and make-up.
Prop operators will need to be dressed in all black clothing and will be responsible for their own attire.

Please let us know if you have anyone interested in volunteering.

---
Halloween Tour: The Dark Side of Spokane
Oct 28th 1-3 pm
Oct 28th 3:30 - 5:30 pm

Oct 31st 1-3 pm
Oct 31st 3:30-5:30 pm

Nov 2nd 3-5 pm

Tickets $15
Tours begin and end at the Hotel Ruby
Reservations essential
Group tours by request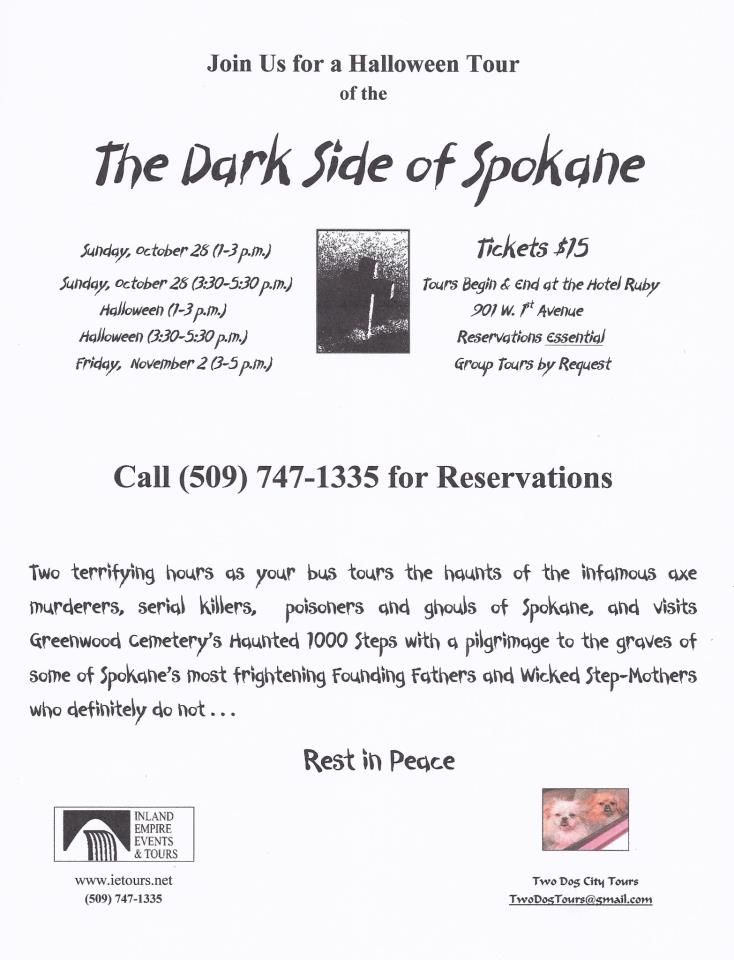 ---
Bite Nite Halloween Party
3rd annual and its the best one yet!
Featuring B Mega and DJ One
Saturday Oct 27, 2012
Doors Open at 8:00 pm
$3000 cash grand prize for best costume
I-pads, I-pods and other great prizes for second and third place
Peoples Choice Award
Full stocked bars, drink specials
Tickets are $10 in Advance or $15 at the door
Brownpapertickets.com
21+ Event
$25 VIP seating available and includes reserved table on the balcony,
cocktail service and a glass of champagne.
Contact The Lincoln Center for VIP tickets
This time it's a PRE-FUNK/PARTY all day affair. We open at NOON for a full day of football, $3 Kona Beers on tap, $4 Bacardi U Call It, $5 Food Specials... then at 10pm, DJ Z spinning tunes in front & Karaoke in the back... Stay all day, pre-funk before you go out & about, or play with us late night...

HULA-WEEN at the WAVE, it's an Island thing.
---
Creepy Hallow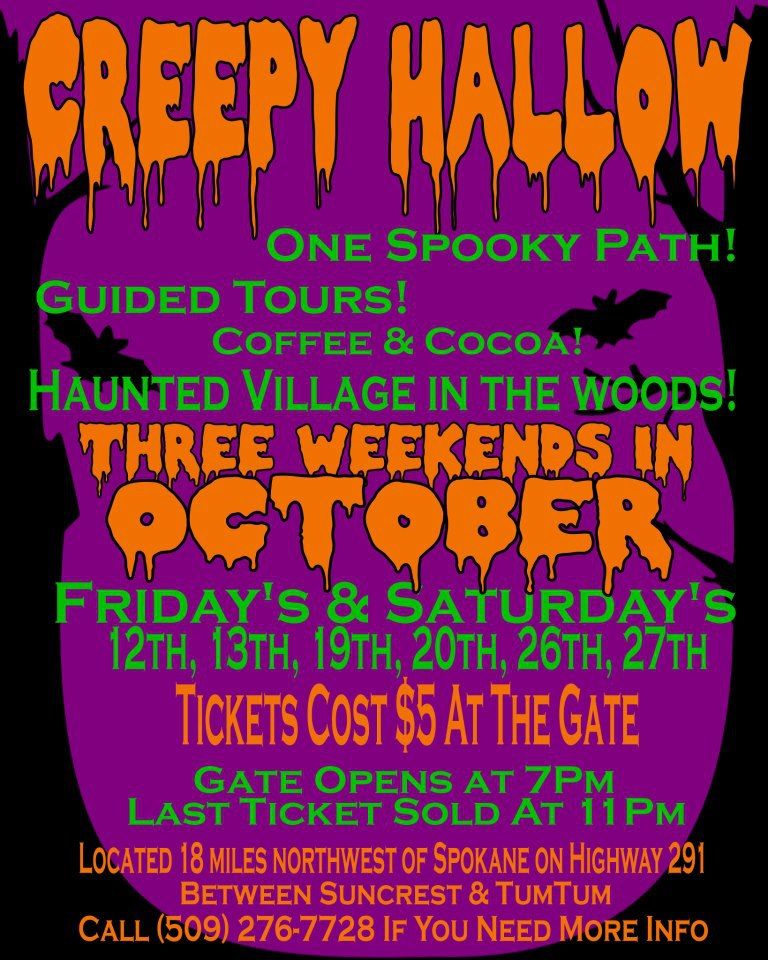 ---
The Hop
7:00pm until 1:00am
Dress up and rock out with us!!

7pm, All Ages, $6 tix/$8 at the door

Check out the bands online:



---

MarketPlace Wine Bar

Friday Oct 26, 2012

$3 Sangria glasses | 10% off Bottles | $1 off all glasses




---




VPI Home Solutions and The Knitting Factory present


The 9th Annual BOOGIEMAN'S BALL!


HUGE Costume Contest - 1st Place get's $3,000 CASH!! 2nd Place get's a 1 Year VIP Membership to The Knitting Factory Spokane!!

Be sure to make your way down to The Knitting Factory October 27th for the BIGGEST Halloween Party in Spokane! This is one party you don't want to miss! Come dressed in your best costume and you can walk away with tons of prizes, including a 1 Year VIP Membership to The Knitting Factory, or $3,000 CASH!!!

Drink Specials ALL NIGHT LONG! $3 Domestic Drafts and $4 Well drinks for your drinking pleasure! TRICK OR DRINK!

---

Zombie Prom Night

Marquee Lounge
Saturday, October 27th
King and Queen will be crowned




---

REVENGE THE NIGHT
A Super Hero & Villain Halloween Party
Wednesday, Oct. 31st 2012
Marquee Lounge
522 W. Riverside


--------------------------

--------------------------

----------------------
THE BEAUTIFUL DOLLS GOGO TEAM!!
BEST COSTUME CONTEST!
FREE COVER!
2 KEGS OF 50 CENT BEER
$3 SHOTS OF FIREBALL
VIP & BOTTLE SERVICE IS AVAILABLE!
RESERVE A TABLE NOW!


--------------------------

--------------------------

----------------------
ZDUB :: MCSQUARED :: BEAUFLEXX and MORE!



---
Swaxx
October 27th
Costume Contest | $500 Cash Prizes

---

Join us in The MAX for a night full of tricks and treats, including scary drink specials and $500 in cash for our costume contest! Monster mash the night away on the dance floor with live music from the Usual Suspects and make Halloween 2012 an event you won't soon forget! Our special room rate for the night is just $39 per guest based on double occupancy and includes two tickets to the party. For more information or to book your room, call


the Mirabeau Park Hotel at (509) 924-9000




---

DOGTOBERFEST


11420 E. Jackson Ave.

Spokane Valley

,

WA

99206

509-290-6024

Bring your dog & family and join us on Saturday, October 27th from 11:00am-2:00pm at Paradise Pet Resort & Doggie Daycare. 11420 E Jackson Ave. Spokane Valley, WA 99206.

Chili feed $5.00 Donation, Costume Contests along with other contests and Prizes, Carnival games for kids, pet adoption and more.

For more information call (509)290-6024 or visit our face book page at Paradise Pet Resort - Dog Daycare & Boarding.

Hope to see you there.




---

Ugly Bettie's Public House

...celebrates it's 2nd Anniversary and it's 3rd Annual Halloween Party Oct 27th. DJ STACK with Signature Events and Entertainment

hosts the party spinnin' all the TOP 40 and CLUB BANGERS.

Drink Specials all night long: $2 Jello Shots & $2 Domestic Drafts.

This is the only party in town without a cover charge!

211 N. Division St in Downtown Spokane



---

A-Club presents the Celebrity Halloween Party

Dress as your favorite celebrity and come dance the night away with DJ SHO from Signature Events and Entertainment.
Costume Contest and Drink Specials. Also, DJ STACK, DJ ONE and DJ KOWAX keep the party going during the only Late Night/After Party from 2am - 4am. Check out the newest and hottest dance spot in town.

Located at 406 W. Sprague Ave in downtown Spokane.



---
Sky High Sports Halloween Party Saturday Oct. 27th!

7:00pm to 12:00am!

Dress up to win our costume contest for some cool Sky High Prizes!
Or just come jump the night away!
---